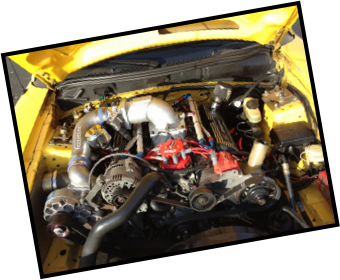 ETS FUELED GTS
Built and tuned by Alternative Auto performance – This clean '94 GTS was actually done by us back in 2000. Although the motor, trans, and blower combo were done quite some time ago, nothing about it has become outdated by what we feel are today standards.
This yellow GT has housed a nearly 400 cubic inch Windsor based motor with a T-trim @ 16psi for a long time, and has always made about 620ish to the rear wheels through the automatic trans. This car runs well into the 9s in the ¼ mile.
As of late summer 2012, this GT no longer burns leaded 110 octane races fuels. It's been updated and fully set up to now consume e85 fuels. When the e85 upgrade was made, only enough tuning to get the e85 to burn correctly in this combo was performed initially. Ignition timing had been left where it was for 110 leaded race fuels. By simply pouring e85 into it… this big Windsor went from 620rwhp all the way to 690 RWHP!! This was a very welcome, and a little bit of a surprising increase. We're learning that in most boosted applications – that e85 can offer substantial increases in power. Not just going from 93 octane to the e85, but from leaded race fuels as well.
This '94 GTS may not have any fancy scoops and wings, but we assure you—it does fly!!