1979 MUSTANG 351w STROKER
My '79 Mustang is what started it all. I purchased the car used in 1984 while I was still in my senior year in high school. I owned it till 1998. I started messing with this car long before the EFi FOX body Mustang craze really kicked in. It was carbureted till about 1993. Then from that point on it had a Holly Projection Throttle body injection system.
Its power plant ranged from mild 302 motors with all the goodies to 351w's with aluminum heads.
Its final combo before I sold the car consisted of a 377cu. in. stroked 351w with TFS high port heads, solid roller cam, 4500 stall, 4.88 gears and it weight 3150 with driver. On an all motor combo its best ET was 10.20s in the mid 1990's.
2008 WHIPPLE EQUIPPED MUSTANG GT
2008 GT auto with Whipple blower and alky injection.
This car ended up with a final combo of a Forged 4.6L, 3-valve and a 14psi 2.3L Whipple.
With a totally stock 5-speed auto trans, stock Torque convertor, HotRod cams, 3.55 gears and on 20in wheels and tires – best ET in very hot weather was 10.70s at 131mph.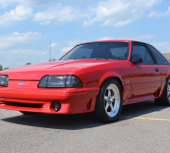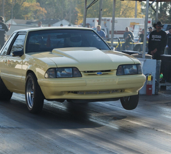 2011 5.0L MUSTANG GT CS
This is Alternative Auto's latest shop development car. As most know, this is Fords current and most powerful naturally aspirated offering in the Mustang world. Because of such excellent initial power level from the factory, and the high cost of supercharger kits for the new 5.0's. We've decided for the first couple seasons of owning this car to extract as much as possible from it with only bolt-ons and tuning, while maintaining normal street characteristics on 20 inch wheels and tires.

Updated: Increased boost from Roush Blower produces great numbers!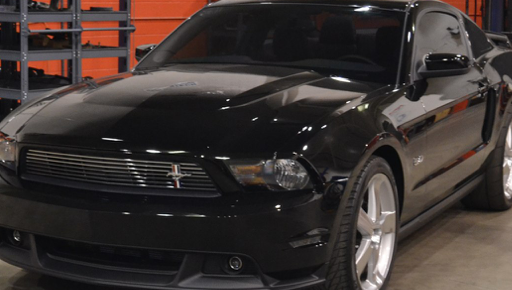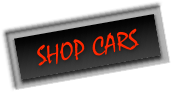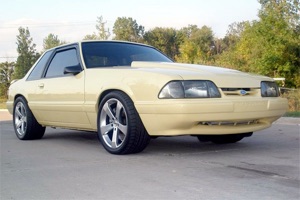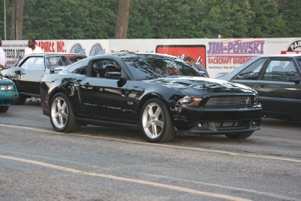 1992 TURBO MUSTANG GT
This beautiful red 1992 Mustang GT has only been owned by Lidio since mid summer of 2012.
Purchased with only 18,000 miles on the odometer. We couldn't pass it up after a quick look. Other than a simple 60mm single turbo kit, big brake/rear disc conversion, and an auburn diff, this car is otherwise all stock with a T-5 Manual trans and even the 3.08 axle ratio. Axles and posi are 31-spline.
The single 60mm Turbo kit is an old school kit from the mid 90's. It started out at 8psi of boost, but this GT has been converted to run on e85. So, the boost has been bumped up to 14psi. This has allowed this totally stock original '92 5.0L motor to make over 450 RWHP. Click picture for more!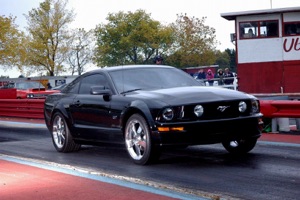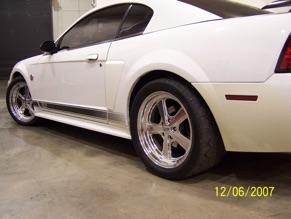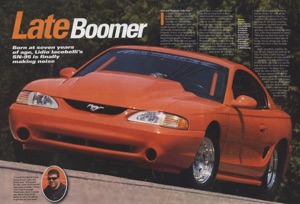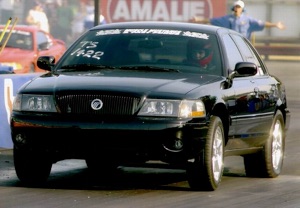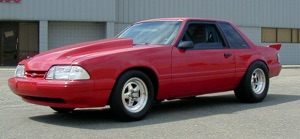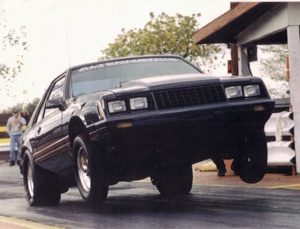 2005 VORTECH EQUIPPED MUSTANG GT
Owned from 2005 till about 2008. This was our entry into the late model '05+ cars, which taught us how to work with the new Fly-by-wire electronics, variable cam technology, and the 5-speed automatic that the 2005 through 2010 GTs were equipped with.
This car ranged from bolt-ons only which got us into the high 12's in the quarter, and final combo was a Forged 4.6L motor and a Vortech making about 15psi. Best ET with centrifugal ended up in the high 10's on 20in wheels and tires.
2004 2.2L KENNE BELL EQUIPPED MACH-1 MUSTANG
Purchased new in 2004 – sold 2010
Final combo; 5.0L stroker with Crower cams, 18psi 2.2L KB blower, stock Torque converter, and 3.73 gears, 125 shot of NOS above boost.
2003 TRILOGY SUPERCHARGER EQUIPPED MERCURY MARAUDER
This was used a daily driver and a development car for primarily the Trilogy Supercharger systems.
Final combo on this car was a forged 4.6L with stock cams and cleaned up stock 32v heads. Trilogy making about 12psi of boost, 4.10 gears, Nitto Drag radials, and a 100 hp NOS hit too. With only boost it would run 11.70s
1993 LX COUPE 360CI NITROUS COMBO – RENEGADE CAR
This was the shop race car that was built and raced for only a short period ranging from  2002 till about 2004. This car was set up to be competitive in the Fun Ford and NMRA Renegade class.
1998 COBRA CHASSIS CAR
Full chassis car. Owned from '98 till 2002. Final combo was a 4.6L 32v with stock "B" heads and stock cams. Vortech T-trim, 4R70w trans and 9" rear with 5.13 gears. Best ET was 9.00's.
Click on pictures for more…
Click on picture for more…
1988 LX TURBO MUSTANG
Purchased new by my wife in 1988, this is the FOX body Mustang that pretty much started it all for my entry into the late model EFi mustang craze that brought us to where me and my shop are today.
This car has seen quite a bit since it was purchased new. The one thing that I've tried my hardest to maintain above all was; that it always remained a street car! With normal street appearances and good streetablity no matter what the power level was on the car. It's gone through a lot. Ranging from originally just bolt-ons, to 5-speed manual trans conversion, then back to an AOD-E, 351w conversion, Vortech blowers, and its most current combo consisting of a 421cu. in. stroker with an 88mm single turbo. It is now producing over 1000hp at the flywheel and has run it's best time of 8.70 @ 165mph.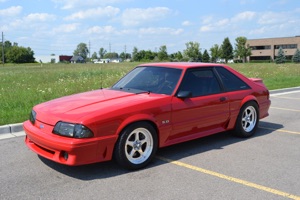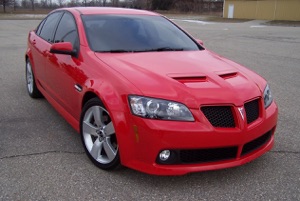 2009 PONTIAC G8
Alternative Auto purchased this G8 as a development tool to extend our tuning and installation capabilities into the GMs. We felt that the G8 was a great platform to begin with because it shares many power train electronics and components with Camaros, Corvettes, etc. This G8 started out with our entry level tuning and air box package along with a small nitrous shot. It has now extended into a forged motor with a Magnuson supercharger.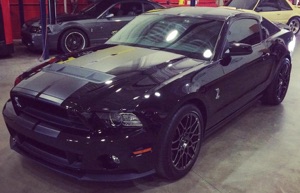 2013 SHELBY GT-500
In mid 2015 we acquired what we feel is one of the most bad-ass, most powerful, and capable Mustangs ever produced…a 2013 GT-500 with the massive and supercharged 5.8L motor.
Our GT-500 has surpassed the mid to low 750 RWHP (with stock TVS blower) by nearly 60+ additional RWHP with the addition of the Crower Stage-4 cams!  We've ended up with an incredibly impressive 811 RWHP and 758 RWTQ. All while still retaining the stock TVS type blower. This has also been done with what we feel is a safe tune on straight 93 octane fuel.