28 E85 And ET Update On Our 2011 5.0 Mustang
E85 and ET Update on our 2011 5.0 Mustang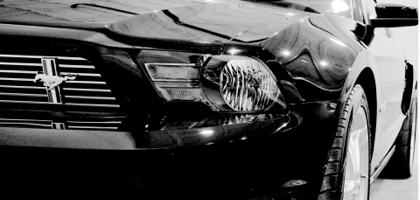 The Alternative Auto Performance 2011 5.0L GT left off in the fall of 2012 with about 11.5-12psi of boost on a slight mix of race fuel and achieved a best of 10.32 @ 132 MPH.
In early summer 2013 we made the decision to jump on the e85 bandwagon and take advantage of its 105 octane so that we could up the boost a little on the Roush TVS blower, be slightly more aggressive with the tune, and still have some descent safety from detonation with the cooler burning/higher octane from e85 fuels.
Our DynoJet rear horsepower numbers have responded very well to these changes. Our 6-speed automatic car is now at 680-RWHP on 12.5 psi of boost in hot weather during the tune session. Unfortunately we've been chasing warm summer weather trying to get the best ET we can out of it. Although it has ET'd and responded very good from last year's ET's, we feel that it has a lot more left in it when we get an opportunity to test and race the car with temps that are well below 70 degrees.
Our current best ET as of mid summer 2013 on e85, and about 12.5psi of boost has been 10.2s at 135mph. This has been achieved with a full weight car (about 3980lbs) as I always like to remind. It has big 20in wheels and tires all around with 20in MT drag radials in the rear. This is a full weight street car, not a dedicated "race car" with skinnies and slicks!  1.48 Sixty foots have been achieved so far with literally no aftermarket suspension parts or changes. The only traction devices on this car are the Mickey Thompson Street DragRadails on the 20in wheels.
These numbers were also done with no ice packs or any trick cool downs other than just letting the car sit for about 1.5 hours between runs in mid 80degree temps at Norwalk Dragway in June of 2013.
I'm confident that with sub 60 to 65 degree temps that this car will go into the 9s for sure some time this year or in the fall of 2013.
Our 5.0L GT still has a 3.55 gear, headers, cat's, resonators, and 3-chamber FlowMaster mufflers. The 5.0L motor is totally stock, with the exception of the obvious boost adder which is a Roush 2300 TVS unit.
Our 6-speed automatic car is now at 680 RWHP on 12.5psi of boost in hot weather…