2011 Mustang GT CS Archive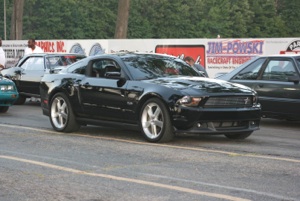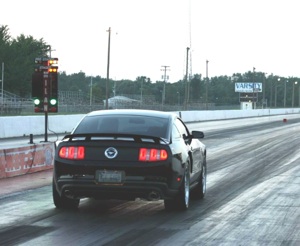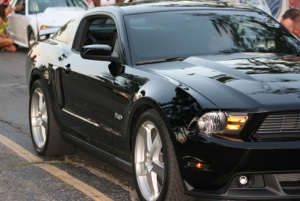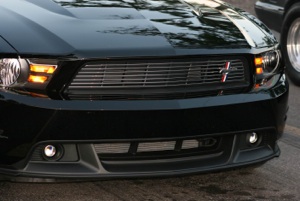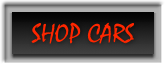 Before 10/20/2010

We have finally received our 2011 5.0L Mustang on June 29th. As might have been expected; this 2011 car is a replacement for the 4.6L 3-valve Whipple equipped 2008 GT that we needed to let go of this past winter, in order to move on to develop performance installs and above all "tuning" for the new 5.0's. Because I grew up with "5.0's" and consider myself a true product of the 1980's and early 90's, I'm going to refer to this car and all other ones like it as a "Five o". I'm sure most would agree that this is fitting description for this car as a whole.
Our new 5.0L car is equipped with the California Special package. Only because I felt that it looked a little better overall then the normal GT's. And as most who know me would expect… the car is Black. And also has an Automatic trans too. Which is the new 6R80 6-speed automatic. I've got a lot planned for this car and above all its transmission tuning.
Automatic transmissions are my favorite as opposed to manual transmissions, Automatics are truly more reliable, especially when making big power like over 500hp to 600hp+ at the flywheel. Automatics are more consistent at the ¼ mile. Automatics can be and usually are faster in straight line acceleration, especially now days with advent of the modern 5-speed and now the current 6-speed automatic's. Automatics do not shock and hurt the driveline nearly as much as a stick shift car. This is why I usually lean toward automatics in my own cars and why I will talk about the new 6-speed first in this write up.
To me a lot of things about this new breed of 6-speed trany's is looking real good. It has a very steep 1st gear (4.17), and also a nice 4th gear which is not the usual 1 to 1 ratio, it's actually a 1.14 ratio. When all of this is combined and put to the right use. What will happen is ultimately it won't need as much or as tall of a rear gear to accomplish good all around acceleration as what older 4-speed and even the recent 5-speed auto's would have needed. Because 1st is so steep, and 4th being 1.14 ratio, it will actually continue to multiply torque while in 4th, and with 2nd and 3rd right in between there – its going to amount to some very nice and moderately close gear spreads, and not to big of an RPM drop each time it pulls a gear from 1st to 4th, (5th and 6th are overdrive gears). And also, one important thing to note too. This new 6-speed auto is probably one of the highest TQ rated intermediate sized automatics Ford as ever offered. It is rated to handle 800ft lbs of TQ. These modern 6-speed automatics are touted as offering better mileage and performance, but for me at this level of good usable forward gears, I'm more interested in what it will do for performance than MPG's. And as long as the shifts are tuned right, I have no doubts about its ability to handle very big power with future upgrades.
As most are aware of by now the new 2011 5.0L is rated at just a touch over 400hp….. 412hp to be exact when running on premium fuels. When our new car was only one day old, and only about 50 miles on the ODO we strapped it down on our in-house DynoJet and through the automatic trans in 75 degree temps – it laid down a best of 355 rwhp and 342 rwtq. This was done in manual 3rd gear so that we could start the pull at a very low RPM and get a good HP and TQ reading across a wider RPM range. Normally on most automatics we try to do the pulls in 4th gear or whatever gear is closest to 1 to 1 ratio. But from simplicity sake and because of the low 3.15 stock rear gear, we choose to do all the pulls in 3rd for now. Had we done the pulls in 4th, I believe it would have net'd a tiny bit more rwhp.
This new 32v 5.0L generation of engines from Ford is showing a lot of promise in terms of performance. The technology put into this thing is like nothing ever before from Ford. This 5.0L on our dyno and in the real world seems to be the happiest when well over 4K rpms till about 7K !
When our new GT/CS was only one day old we took it to Milan Dragway, MI. We got lucky and the temps were in the low 70s that late June evening with very little humidity. The best run we could squeeze out of it was a 13.23 @ 108mph. 60ft's were in the 2.0 range. At this point the car had only 213 miles on it. Not to bad for a totally stock automatic Mustang.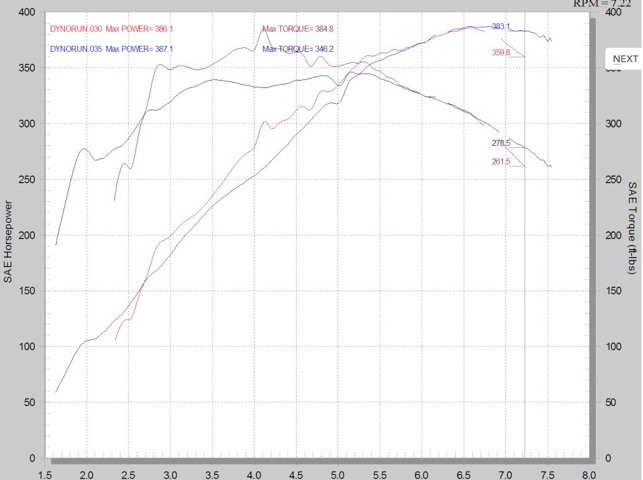 Scroll Down…Oldest to Newest…