10 2014 Mid Summer Shop 2011 Mustang 5.0L Update
2014 Mid Summer Shop 2011 Mustang 5.0L Update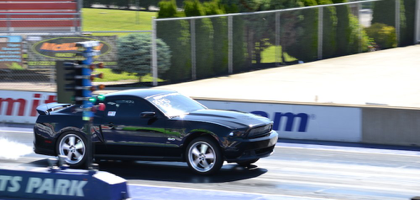 For the mid 2014 season, our 2011 5.0L car has improved its ET's on boost alone, and also with the NOS on top of boost.
After a couple more NMRA races at both Maryland, and Norwalk OH, and also a couple of test sessions locally. We've managed to get the car into the 9.90's at over 138mph, and with the NOS we've whittled it down to 9.50's at over 147mph.
This is still a pretty much full weight car (3940lbs with driver).  We've been playing around with no front sway bar, which is about a 15lbs weight reduction up front, and we've neatly relocated the battery into the spare tire well in the back of the car.
Our sixty Foot numbers are now in the mid to low 1.4's.
One of the most impressive things about this combo is the 6-speed auto Trans in the car. Known as the 6R80….  It now has over 250+ ¼ mile passes on it — With most of those passes now being with a boosted motor with RWHP numbers being far north of 700. And with the NOS well over 850rwhp.
The Trans has never been serviced or beefed up or anything. Same with the Torque convertor too. It's all stock. Just proper Trans shift tuning and she's been living.
The rear end is still mostly stock with a 3.55 gear and an upgraded Posi unit with the stock 31 spline axles.
We got into the 9's in the 1/4 mile with boost alone in our full weight 2011 GT on 20in wheels.