1988 LX Turbo Mustang Archive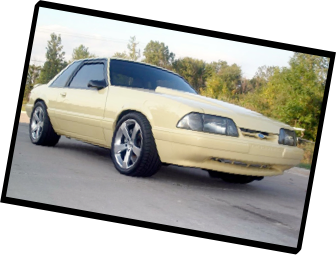 Recently in the fall of 2008 at our Local ¼ mile drag strip — the now Turbo'd '88 yellow LX ran an unexpected; 9.30 @ 155mph with only a 1.62 60ft time!! This was achieved with the car exactly the way it is pictured and displayed in its web profile. It had the 18" wheels & tires all around, with the big 13" brakes up front too. Also this was achieved by simply foot–braking at the starting line.
This car does not have a "trans-brake" So it launched on absolutely no boost till she got out about 30 feet and then started to "come on" resulting in a mile-per-hour of 124 in the 1/8 mile. As mentioned in its current profile it has 18" Mickey Thompson drag radials measuring 305/35/18" in the rear.
Low nines were not expected on these 18" rear drag radials. Obviously a nice surprise!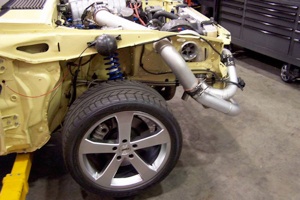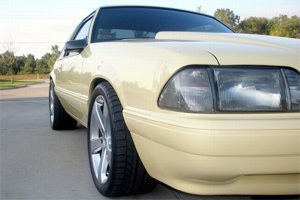 Scroll Down…Oldest to Newest…
Ordinarily we'd highlight a customer car in this section, but this time around I'd like to display one of my own Mustangs that's gone through many performance and cosmetic changes since its birth in 1988. I won't dwell to much on its history.
This Tropical yellow Mustang LX was purchased new by my wife in 1988 a couple of years before we got married. And thankfully we've held on to it all these years. The car was originally a 5.0L HO with a automatic AOD trans. And yes the interior and exterior colors are original. Although in 1999 it was gone through, and repainted, with also some light interior restoration, which really only consisted of new carpet and some other minor things.
After many different combinations over the years with the motor, trans, and Vortech blowers… The power-train combination really stabilized in 1999 when it got a 392 stroked Windsor, TFS "R" heads, Lunati hydraulic roller cam, Vortech T-trim (20psi), F.A.S.T. EFI engine management, and a more modern AOD-E that is computer shifted by a stand alone BOX from Baumann Engineering. This combo essentially made 645 RWHP and ran mid to high nines in the ¼ for nearly eight seasons, in what appears to be a pretty tame, and very street-able Mustang. Then in 2006 some minor exterior changes where made like smoked head lamps, larger 18" wheels and tires, and large 13" Cobra front brakes and a rear disc conversion to match.
Later on in 2006 another big performance change was headed in this cars direction… I made the decision to go with a single 80mm turbo on the 351W stroker after being centrifugal equipped since 1993. The car was down for the turbo conversion for nearly two years and finally came together, and ran again in the fall of 2008. The entire Air To Air Intercooled Turbo package on this '88 LX is a custom set up, not in any way a kit.
The stroked 351W motor combo (nearly 10 years old) was left entirely alone for now with the turbo set up, and for some initial results; this new package is up nearly 110 RWHP over the centrifugal blower. So as it sits for the fall of 2008 on only 17.5psi, it's producing 752 RWHP through the AOD-E trans. Low nine second ETs should come with ease on 28 X 10.5 slicks, and I'm actually hoping for very high nine second ETs on the new 305/35/18" Mickey Thompson drag radial it now has on the rear.